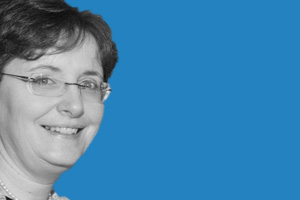 Prof Irene Sheridan
Head of CIT Extended Campus, Cork Institute of Technology
Supporting and Stimulating Engagement between Higher Education and Enterprise
This article offers thoughts from the frontline: a reflection on activities spanning the boundary between higher education and enterprise, and some practical observations to support good practice in engagement. Not everything that is valuable can be counted, but we can certainly seek to evidence it. Not every interaction that can happen should happen – but how do we know what's happening?
The role of higher education in economies and societies continues to be the subject of both optimism and debate. As the mission of the university evolves, it is no longer considered to be a dedicated teaching and research institution but also a purposeful driver of economic development and a supporter of job creation, with a role in both the generation and application of knowledge.
In Ireland the most recent Action Plan for Education points to greater involvement of industry as a key enabler in developing relevant and current higher education provision and a strong talent pool. The National Skills Strategy refers to the need to 'forge practical alliances between industry and academia in the region'. The sustainability and growth of the Irish economy relies on our success in nurturing indigenous Irish enterprise as well as our ability to remain an attractive destination for top multinational corporations. With global economics, technology, and market globalisation changing rapidly, regional economic development and future skills needs can best be addressed through broader foundations of knowledge generation and application to facilitate the required agility, adaptability, and innovation of both workplace and workforce.
In a complex policy environment, in which reports and strategy documents repeatedly say that relationships and partnerships between higher education and enterprise are vital to regional economic and social development, graduate employability, and relevance of the curriculum, there is no real clarity in either higher education or business on the terminology or potential of such interactions. Nor are there clear funding supports or inclusive metrics for monitoring and supporting the broad range of partnership activity.
Successful interactions require considerable effort from both partners and are rarely straightforward service arrangements. They are best considered as part of a longer-term, mutually beneficial two-way partnership based on realistic expectations. Collaborations between university and business are often seen as possible sources of funding, with the potential to replace declining government funding. Some authors view university collaboration as research and development collaboration only. From the business perspective, the most significant interaction they have with a university is often through the recruitment of graduates; strong collaboration focused on graduate formation can be vital for the students, university, and enterprise.
Metrics are often concentrated on relatively easily measured parameters relating to commercialisation and translation of research and formation and the support of spin-outs. Motivation for the growing engagement agenda is driven largely by economic imperatives, through government and higher-education funding policy. While deliberate engagement with private enterprise contributes measurably to regional economic and social well-being and is the focus of national and international measures and drivers, the concept of contributing to the development of citizens and citizenship in a broader way in the university community is difficult to evidence and often neglected.
With dedicated resources to an integrated, institute-wide approach to engagement for over a decade, Cork Institute of Technology (CIT) has reflected on the opportunities for interaction with a broad range of external organisations. This reflection has provided an adaptable framework for codifying engagements, and offers insights into what happens in practice and with whom. By developing a customer relationship management (CRM) system, interactions with organisations were tracked and recorded. Analysis of the data resulted in three pillars of engagement being identified: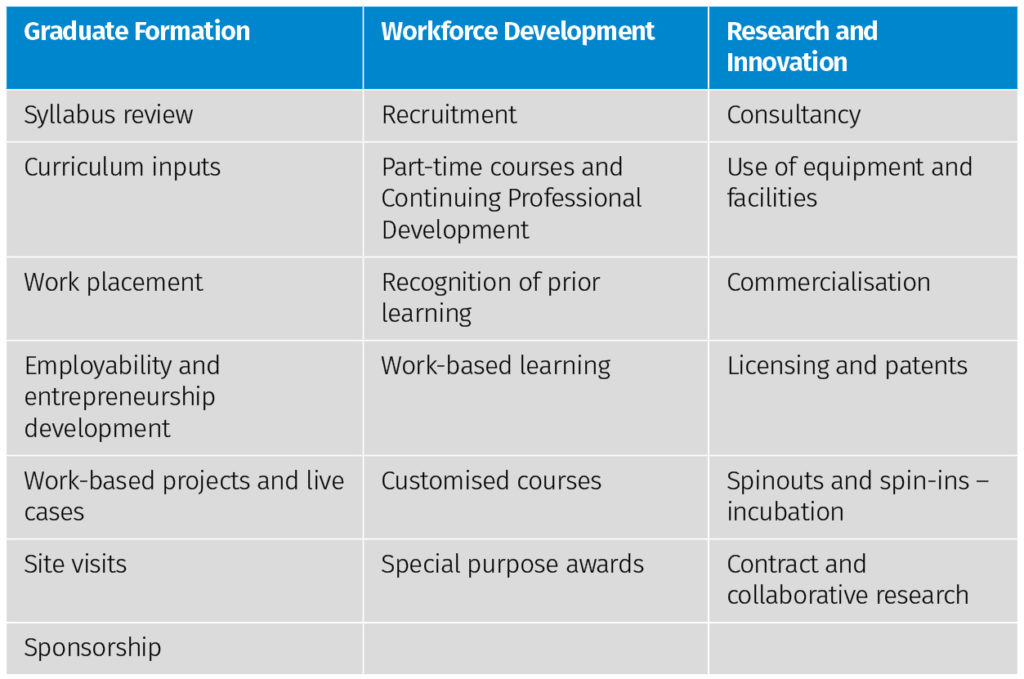 This clear codification has enabled periodic analysis of the types and frequency of interactions sought and achieved, for instance the cross-referencing of types of interaction with organisation size and sector. It has also enabled detailed three-dimensional heat-mapping of interactions with individual organisations, and has provided clear evidence that the interactions between higher education and non-profit organisations, for example, are no less varied and valuable than those with multinational corporations.
Interactions with charitable and public sector organisations have been identified and quantified, and these interactions evidently span the pillars of engagement and benefit from dedicated relationship management and principles of engagement no less than interactions with private enterprise.
Considering how best to stimulate and support interactions in a sustainable, responsive, but also responsible way, CIT has established the CIT Extended Campus. This model is unique in Irish higher education as a single point of contact for all external organisations seeking to interact with students, academics, and researchers. It provides a stimulus for interaction through case studies and exemplars intended to generate the 'pull' from within the enterprise sector. The Extended Campus acts as a focal point for sharing information and practice on engagement and external organisations and contacts, in order to support and contribute to institutional strategy and knowledge.
Its main aims are to:
make it easier for external organisations to engage in mutually beneficial interactions with CIT students, academics, and researchers
develop a clear view of the extent and depth of existing and potential engagement interactions to feed into institutional strategy and decision-making
stimulate more interactions and measurably support regional development
ensure that the various interactions with external organisations are collated and built upon to develop broader, supportive, long-term, mutually beneficial partnerships.
Experience has shown that organisations tend to progress along a continuum of relationship with higher education, often starting with low-barrier interactions such as learner work placement or the provision of a live case study. These interactions allow organisations to build familiarity with students and staff; a typical partnership might begin with a work placement that leads to the specification of an undergraduate project and graduate recruitment. Depending on the absorptive capacity and organisation size and readiness, the relationship may develop to include workforce upskilling and research – often through the use of external funding mechanisms such as innovation vouchers.
While policymakers and practitioners alike envisage that engagement between higher education and enterprise is beneficial, it is not always clear what is meant by 'enterprise' or indeed 'engagement' in this context. Taking the broad view, enterprise is considered here to encompass public, private, and not-for-profit organisations across all sectors and of all sizes. Engagement embraces the full range of interactions that might occur across the academic–enterprise divide. Organisational strategy will both be informed by, and serve to inform, the interactions in practice. A planned purposeful support mechanism serves to ensure that institutional responses are cross-disciplinary and aligned to institutional strategy.
The initial Irish findings from the Study on University–Business Collaboration illustrate that there are still significant barriers and that those barriers may be felt more keenly by SMEs than by large industries. Given the proportion of active industries that are either micro or small, this presents a real challenge. This study collated responses from individual academics, university management, and businesses. Some of the barriers identified by the business respondents were:
bureaucracy related to university–business collaboration
differing motivations between universities and business
lack of people with business knowledge in universities
lack of awareness of the opportunities for collaboration
differing time horizons.
To help overcome some of these barriers, a series of case studies of interactions spanning the full range of potential interaction and organisation types has been developed and continues to be compiled. These examples of engagement in practice include a pharmaceutical company operating in the preclinical and early stages of drug discovery working with a large research group to design and prototype a bespoke imaging system, and an undergraduate placement student helping a local charity to achieve their marketing and fundraising objectives.
Supporting organisations in their interactions with higher education requires a thoughtful approach. Providing a clear and consistent point of contact, and recognising that issues or opportunities do not always align with our disciplinary divisions, will ensure that responses are inter- and intra-disciplinary. Offering a case management approach and collation of relevant data on engagement opportunities and outputs will provide valuable input to strategic decision-making. Engagement with external organisations occurs throughout higher education institutions. In fact, it is difficult to point to a unit of a university which is not externally engaged. In many cases, however, these units act alone or without knowledge of what's happening elsewhere in the university. Combining knowledge of engagement interactions dispersed throughout the organisation is valuable in developing good practice and supports the development of metrics.
It also leads to some interesting questions. Uncovering current practices and shedding light on existing interactions lead us to reflect not just on what is happening across the university–enterprise divide but on what can and indeed should happen. A means to measure and quantify the extent and impact of engagement cannot or should not obviate the need for value judgements and care in avoiding unintended consequences. This is particularly true when considering higher education providers that are, in the main, publicly funded.