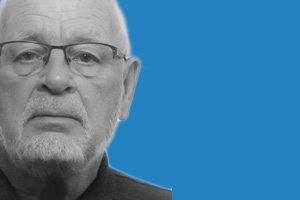 Derek West
Former principal of Newpark Comprehensive School, Dublin; past president of NAPD; and publications editor of NAPD quarterly Leader
The Key Role of Collaborative Professionalism
Notes on a talk by Andy Hargreaves
Derek West went to hear Andy Hargreaves at the Killeshin Hotel in Portlaoise and spent a day happily out of his depth. Here he offers his reflections on the day and its themes of communication, collaboration, reflection, well-being, leadership, and the undervalued middle ground.
For context, see previous article – the abridged version of the paper by Andy Hargreaves and Michael T. O'Connor, 'Leading Collaborative Professionalism'.
A slight, dapper man with a walking stick moves to the rostrum, his face illuminated by the colourful collage of slides projected onto the screen behind him. He has been given a warm introduction by IPPN director Páiric Clerkin, and his mighty reputation has preceded him, so the room is packed with the elite of the primary and post-primary education sectors. The Department of Education and Skills is represented in the person of its chief inspector, Harold Hislop. All gathered have felt it worthwhile to give up a Saturday morning (17 November 2018) to travel to Portlaoise.
The morning is a lot about communication. With a nonchalance that conceals his mastery, Andy Hargreaves – part-showman, part-guru, and part-philosopher – makes eye contact with those gathered. He is relaxed while he copes with an errant microphone, telling us why he has a stick (he broke an ankle in the Appalachians earlier in the year). He has been in a wheelchair and on crutches; now he's on a walking stick. This is his first gig since June.
He shares all this in an intimate, conversational way and incorporates the stick ('I call this my Gandalf stick') into his act. When he raises it, the audience are to resume their seats and be silent. It works. We are entertained and at ease – but what are we going to learn?
Andy Hargreaves is in his late sixties but is as lively as a much younger person, and twice as compelling. He is absolutely present, in the moment, and totally with his audience. His accent bears traces of his north of England origins but has been somewhat flattened by global travel to educational fora in the four corners of the earth.
His primary purpose is to persuade us about the key role of 'collaborative professionalism'. That's his new buzz phrase – and the title of a book he has just co-authored with Michael O'Connor. Here he offers some descriptions:
Collaborative professionalism is about how teachers and other educators transform teaching and learning together to work with all students to develop fulfilling lives of meaning, purpose, and success.
Collaborative professionalism is organised in an evidence-informed, but not data-driven, way through rigorous planning, deep and sometimes demanding dialogue, candid but constructive feedback, and continuous collaborative enquiry.
Collaborative professionalism is embedded in the culture and life of the school, where educators actively care for and have solidarity with each other as fellow-professionals as they pursue their challenging work together in response to the cultures of their students, the society, and themselves.
In the first hour, Hargreaves encourages his audience to collaborate. He suspends his address at intervals to allow brief dialogue between neighbours, and the bulk of the day is spent in a break-out 'café' session (you don't go for lunch: they bring it around in a box!) with a round-table group. This invests the day with a lot of participative energy, and models the effect that he presumably would like to see replicated in staffrooms across continents. In the concluding plenary, he pulls much of it together.
So collaboration is the name of the game – along with communication, reflection, and well-being. Hargreaves proposes ten tenets of collaborative professionalism (see diagram).
He talks for a while about ICSEI (International Congress for School Effectiveness and Improvement), of which he is currently president. Their 2019 conference is being held in Stavanger in Norway, and they're setting out to rock the boat by breaking with traditional formats and increasing the diversity of presenters: more women, fewer suits, switching the emphasis from male-oriented systems to the more female emphasis on pedagogy.
There won't be a panel in sight ('kiss of death'), but there will be interactive sessions along the lines of Later… with Jools Holland: eight speakers for eight minutes each, pitching one after another, from heterogeneous backgrounds, speaking on unrelated topics; for example, a speaker from Morocco, where homosexuality is illegal, speaking after someone from the LGBT community. Will Andy be master of ceremonies with his Gandalf stick? It's a heady mix aimed at Generation X, which is ready and up for change.
Questions:
Why are we so eager to sit at the feet of Master Hargreaves?
Haven't we enough ideas swilling round in our heads already?
Haven't we embarked on all kinds of reform already, pursuing the holy grail of being the best education system by 2026? 4. Aren't we suffering already from innovation overload?
Yes, yes, yes to the last three questions, but perhaps the answer to Question 1 is that we are afraid of missing something out; we're fearful of our complacency, so someone like Andy Hargreaves, who will question our assumptions, is welcome at our table – not for the facts he'll feed us (all of which are to be found online) but for the oxygen of new ideas and outlooks that he spreads with a swish of his Gandalf stick.
The ten tenets of collaborative professionalism (Andy Hargreaves and Michael T. O'Connor, Collaborative Professionalism)
Hargreaves wants us to engage with process, a fine balance between reflection and action. He shows us the Elton John–John Lewis ad, which unfurls layer after layer of the singer's constant self-reinventions and suggests, towards the end, that the Christmas gift of a piano was what set it all a-ticking. He invites us to reflect on this little story, and it evokes a fascinating series of diverse responses.
We are seduced into contemplative mode (remember Milton's Il Penseroso?). It's about alertness to change, in all its fluid phases and complexity. It touches on mindfulness, living in the moment, being present, yet sensing the bigger picture. It's only 10:50 a.m. and we can no longer touch bottom – he's drawing us away from the familiar and the commonplace.
He asks us to brainstorm the word 'middle', and we collectively arrive at some indications of mediocrity, in-betweenness, neither one thing nor the other. He draws us towards more positive thinking – the middle connecting other things, middle leadership as an engine room that drives the vision and draws strength from the support of the top tier, underpinning the notion of collaboration.
It's just too complicated now to lead, alone, from the top. Left at the top, it's too easy for leaders to become either narcissistic or manipulative – no prizes for providing examples! In that middle tier there is the space to achieve, through collaboration, excellence, equity, well-being, and public confidence. It may not be the only way, but, for Hargreaves, it is a viable and positive way.
The role of those at the top is not to do everything – leadership is hardest when you do it alone – but to support the middle tier through a philosophy, a structure, and a culture.
After Andy Hargreaves opened the minds of his audience, we were filleted into our groups and put through a series of rapid discussions on themes such as well-being, reflection, and communication. The value was simply in the interaction between participants drawn from different sectors and strata. I found myself in the company of a primary principal, a post-primary principal, and a classroom teacher. Due to defections (no names, no pack drill), we had no women at our table.
The great benefit of the exercise was that we set to the allotted tasks promptly and seriously and assumed rapid candour, so we covered a lot of valuable ground in good time. The frustration lay in not having time to draw our thoughts together or to take them to another level. There is promise of an e-book, as a follow-up to the day, and perhaps that will achieve a coherent account.
One of Andy's slides sums up the value of the group experience:
I've been so isolated as a teacher. I just have gotten used to being my own boss and doing what I want and making my decisions. And then I have to come here and hear ideas that don't necessarily go with mine and learn to be flexible and see others' perspectives. It's also been nice just to work with other people who have the same frustrations. It really has changed my life to come here and work and be around everyone.