Ireland's Education Yearbook 2021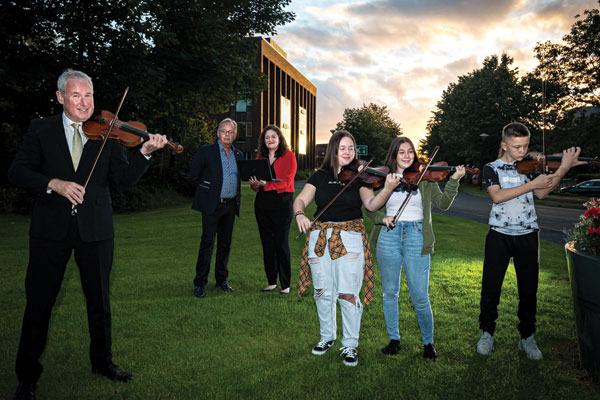 Irish Chamber Orchestra: Instigator Of Integration And Social Change
The Irish Chamber Orchestra champions quality music education in schools. In Limerick City, it is providing 300+ children weekly with free music education.
Its new Sing Out With Strings Online website offers free access to its expertise worldwide to every child.
Reopening, Re-engaging, and Renewing
Extended school closures, losses of learning time, and the stress experienced by children, parents, teachers, school leaders, and policymakers can leave us with a sour taste as we reflect on 2021. This article takes an optimistic view, however, pointing towards the re-emergence of education as a national priority, the agility of our system-wide response, the renewed focus on equity and inclusion, and the supreme efforts of stakeholders during this remarkable time.

Dr Patrick Sullivan
Deputy Chief Executive Officer, National Council for Curriculum and Assessment
Staff Wellbeing Impacts Student Wellbeing
Supporting resilience in school communities
The Covid-19 pandemic led to exceptionally difficult conditions and circumstances for school communities. As schools struggled to cope and adapt to the ever-changing environment, having strong, positive, and supportive relationships proved to be a key factor in nurturing the resilience of educators and students alike.

Fiona Forman
Author and Well-Being in Education Facilitator
Professional Learning in Education in a Changing World
Observations on teachers' engagement in online elective professional development
Since the pandemic, Education Support Centres have provided a wide range of online elective professional development supports. The high levels of attendance and engagement are notable. The shift to online professional development began with an emphasis on digital tools and platforms and transformed to the use of these tools for professional learning. Online elective professional learning now has a place alongside face-to-face training and development.

Ray McInerney
Director, Clare Education Centre on secondment from Principal, Ennis National School
City Connects Pilot Project
An evidence-based system being piloted in 10 DEIS primary schools in Dublin
City Connects is an evidence-based intervention delivered in partnership with schools and services seeking to meet the needs of children living with high levels of poverty and marginalisation. It is currently being piloted in ten DEIS band 1 primary schools in the North East Inner City in Dublin. This article introduces the system and describes its implementation in Ireland.

Dr Mary Walsh
Executive Director, City Connects; Daniel
E. Kearns Professor of Urban Education and Innovative Leadership, Lynch School of Education, Boston College

Dr Ann Higgins
Coordinator, Transforming Education  through Dialogue (TED) Project, Curriculum Development Unit, Mary Immaculate College
Meeting the Needs of Children Most Affected by the Pandemic
A principal's perspective on how the  pandemic has affected the education and wellbeing of children in a DEIS band 1 school
All children have been affected by the pandemic, particularly children with special needs and from disadvantaged backgrounds. I believe that the government response to these greater needs has not been enough. The pandemic has shone a light on the most vulnerable in our society, highlighting issues already present. This article gives a glimpse at how our DEIS band 1 school navigated though the pandemic, learning and thriving, and illustrates the challenges left to face.

Orla Hanahoe
School Principal, Cnoc Mhuire Senior School, Tallaght
The Importance of Communication and  Movement Breaks for Pupils
How a pupil's unique sensory system can be a gateway to learning
This article argues that because of a rise in anxiety upon the return to school, it has never been more important for teachers to understand the function and components of a movement break. It discusses inclusion, communication, and sensory processing disorder and how these variables influence a movement break. It also shares recent input from teachers and parents.

Muireann Sadlier
Assistant Principal, Special School
Diversity and the Teaching Profession
Migrant teachers' perspectives and expertise will benefit our education system for many years to come
Migrant teachers present a variety of great opportunities for schools and students in Ireland. As well as their considerable qualifications, they bring a new dimension to classrooms, with a diversity of perspectives and expertise that will benefit our children and our education system for many years to come.

Dr Garret Campbell
CEO of Global Schoolroom, and Project Manager of the Migrant Teacher Project,  Marino Institute of Education
Being LGBT+ in Irish Primary Schools
Sunshine and rainbows, or storm clouds ahead?
The experience of LGBT+ people in Ireland has changed significantly in the last decade. This article examines how LGBT+ staff, pupils, and families currently experience Irish primary schools, and the implications of this for future decisions by educators, school leaders, academics, policymakers, and other stakeholders.

Becoming a Teacher in a Pandemic
Four student teachers on training during the Covid-19 pandemic
We invited students from four undergraduate initial teacher education programmes in Ireland to recount their experiences of what it was like to be a student teacher during the Covid-19 pandemic. Here they describe the challenges, practicalities, unexpected benefits, and hopes for the future.

Jade Kelly
Froebel College of Education

Ellen Corr
Dublin City University (DCU)

Tierna Maguire
Marino Institute of Education

Oisín Ryan
Mary Immaculate College (MIC)
Life in and out of lockdowns was a huge challenge for children, not only educationally and socially but in how they thought about their lives and society. This article offers one perspective from a primary school pupil on the hopes and fears felt and the practical and psychological adjustments made during the pandemic.

Giulia De Marzio
Fifth Class Student, St Paul's SNS, Ayrfield, Dublin 13
The Covid-19 Pandemic and Education System Change
Reflections on education change and the  pandemic's influence on it
The conditions required for sustainable changes in the education system have been considered in education literature and were broadly in place from the onset of the pandemic. Some long-sought resourcing improvements were secured, and the challenge in the post-pandemic period is to embed these as essential features of system supports.

Noel Ward
Former Deputy General Secretary of INTO
Living in the Shelter, Not the Shadows, of Each Other
It's time to celebrate Traveller culture and customs in our schools
This article outlines the richness of Traveller culture and why it should be part of the Irish primary school curriculum. It is time to show children that, along with the new and exciting cultures they experience through their new friends from international backgrounds, there is a rich and valuable backstory to a national ethnic group whose story has too long been misunderstood. Doing so will help prevent mistakes from being repeated and will enable tolerance and appreciation to prevail.

Damian White
Principal of Scoil Shinchill, Killeigh, Co. Offaly, and Immediate Past President of the Irish Primary Principals' Network
Parents' Voices through the Covid-19 Pandemic
Family wellbeing and home education
Homeschooling, along with remote working, was a defining feature of our lives under Covid-19. This article highlights the family wellbeing and experience of 151 parents with children aged 4–13 years who were interviewed by the Early Learning Initiative, National College of Ireland, between March 2020 and September 2021 as part of its Covid-19 supports.

Josephine Bleach
Director, Early Learning Initiative, National College of Ireland
Other Chapters Ireland's Education Yearbook 2021