Ireland's Education Yearbook 2021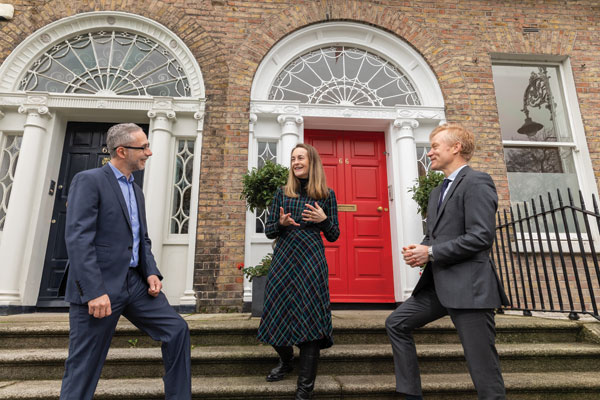 Ulysses Scheme now in its 25th year
At the launch of the 2022 Ulysses call:
H.E. Mr. Vincent Guérend, French Ambassador to Ireland, Dr Marie-Luce Paris, University College Dublin, Damien Henehan, IRC Programme Manager, Ulysses scheme awardee.
Now in its 25th year, the Ulysses scheme provides funding to facilitate the exchange of innovative ideas and approaches between researchers working in Ireland and France. Named after James Joyce's famous novel to celebrate the Joycean links between Ireland and France, the joint scheme has funded over 700 awardees since it began.
Overview of the Irish Research System in 2021
Despite the severe challenges of Covid-19, the research and innovation system in Ireland continues to grow in exciting new directions. This article takes a broad view of the main current themes and developments in Irish research. It also provides context for the research chapter's individual articles and looks at how structure and policy changes will affect the research landscape in the coming years.

Peter Brown
Director of the Irish Research Council
Why Should We Care about Interdisciplinarity and Transdisciplinarity?
Radical solutions for the monumental global challenges we face
Today's societal problems are complex and multifaceted. Developing solutions demands a variety of disciplinary and practitioner approaches and perspectives. SHAPE-ID brings to the fore the importance of arts, humanities, and social sciences (AHSS) in addressing these challenges in a more holistic and socially credible manner. The project seeks to improve pathways for inter- and transdisciplinary research, particularly between AHSS and STEM disciplines.

Jane Ohlmeyer
Chair of Irish Research Council, Erasmus Smith's Professor of Modern History (1762), Trinity College Dublin, and Principal Investigator for
SHAPE-ID
Joined-Up Thinking to Tackle the Climate and Biodiversity Crises
Shared research needs for a green-knowledge-based future
The climate and biodiversity crises that threaten our way of life are fundamentally connected and operate beyond national borders. Solutions require fair and just societal transition and transformation. Large-scale, collaborative research across disciplines in both jurisdictions on the island of Ireland is needed to develop joined-up solutions to the crises.

Yvonne M. Buckley
Nature+: Trinity Centre for Biodiversity & Sustainable Nature-based Solutions, Trinity College Dublin
Mark Emmerson
School of Biological Sciences and Institute for Global Food Security, Belfast
Derek Jackson
School of Geography and Environmental Sciences, Ulster University (Coleraine campus)
Peter Thorne
ICARUS, Department of Geography, NUI Maynooth
Murray Hitzman
iCRAG, University College Dublin
Anna Davies
Nature+: Trinity Centre for Biodiversity & Sustainable Nature-based Solutions, Trinity College Dublin
Research for Public Policy: A Framework for Action in Ireland
Developing the Irish research ecosystem as an important national resource to address major societal challenges
This article identifies the importance of strengthening the connections between research and policy in an Irish context, and reviews the development of this national conversation during 2021. It considers a range of measures for making progress and highlights the recommendations of the Research for Public Policy roadmap recently published by the Irish Research Council and the Royal Irish Academy as identifying important pathways for future action.

Mary Doyle
Visiting Fellow in Public Policy at the Long Room Hub, Trinity College Dublin
Ireland's Creative and Cultural Industries
Policies, evidence, and research possibilities
The creative and cultural industries in Ireland have been the subject of policy discussion, but definitions remain inconsistent. This article reviews existing contributions, the evidence for the industries' economic significance, and the potential for further research.

Daniel Carey
Director, Moore Institute, NUI Galway

Dr Steven Hadley
Research Fellow in the Moore Institute at NUI Galway
A Turning Point for Open Research?
The value of open research in the Covid-19 era and beyond
Covid-19 has heightened the urgency for greater scientific cooperation and open dissemination of research. This article reflects on drivers and challenges associated with the open research agenda and calls for strategic and collective action to realise a more effective, equitable, and open research system.

Daniel Bangert
National Open Research Coordinator, Digital Repository of Ireland, Royal Irish Academy
Marie Skłodowska-Curie Actions Fostering Ireland's Future Talent
A crucial component of a rich and diverse research system
The Marie Skłodowska-Curie Actions (MSCAs) provide a vital source of funding for bottom-up research through innovative training projects anchored on international mobility. Ireland has been extremely successful in the MSCAs throughout Horizon 2020. The advent of Horizon Europe presents an opportunity for Ireland to aim even higher in this programme by supporting research actors, across all disciplines and sectors, and enabling more talent to follow in the footsteps of Madame Curie.

Dr Yvonne Halpin
MSCA National Delegate and Head of the Irish Marie Skłodowska-Curie Office
Selected Results from the PGR StudentSurvey.ie 2021
The impact of Covid-19 on postgraduate research students
Postgraduate research (PGR) students are a vital group in national research and innovation in Ireland. Every two years, PGR StudentSurvey.ie invites responses from master's-by-research and PhD students about their experiences of higher education in Ireland, including their academic, personal, and social development. This article summarises the latest survey results and provides a brief analysis of the findings.

Dr Siobhán Nic Fhlannchadha
Project Manager of StudentSurvey.ie
Other Chapters Ireland's Education Yearbook 2021